Hark! The Herald Angels Sing
Under the direction of Jim and Teet Crumlish, Winterfest's Dickens Carolers are bringing historic beauty to Plaza Wonderland every night of the Performance Tour. The Carolers sing a cappella, and can usually be found by the courthouse steps or the trolley. Enjoy holiday favorites like "Good King Wenceslas" and "Joy to the World" and remember the uncomplicated days before electric light and automobiles. You might even see the familiar face of Ebenezer Scrooge taking a stroll nearby!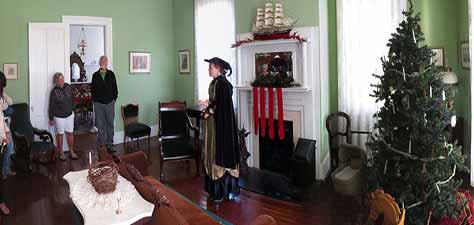 See Victorian Holiday Traditions Come to Life
Historic Pensacola's living history presentations are an amazing way to experience our city's past! They're offering special tours this Christmas Season, Tuesdays through Saturdays until December 20 at 2pm. See how the Victorians celebrated the holidays, from holiday decor to Santa Claus. Call Sheyna Marcey at 595-5985 for reservations; tickets are $6 for adults, $5 for seniors, and $3 for kids 3-15.